Purchase Alpen Products On-line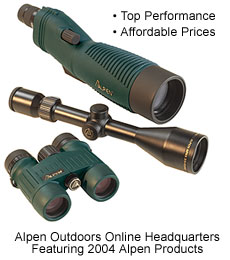 To BUY any Alpen product, click a left panel link.
Each Alpen product is backed by Alpen's lifetime factory warranty. Click the links to the product pages to view individual products and specifications.

Secured On-line Orders - No database sharing. To order items from our secure web server, please use our on-line order form. Add the items you want to your shopping cart. You can add or remove items from your cart. When ready, go to the checkout stand. You will then be connected to our secure server to safely transmit your personal information.
Your information is kept strictly confidential. It is NOT shared with anyone.
Mail or Fax Orders - To order via mail or fax, print and fill out the order form, attach a check or money order, or include VISA or MasterCard information, and mail or fax it to us. Checks require 10 days extra to clear.
Shipping and Handling - A shipping and handling charge of $6.95 per product will be added to each order shipped. We ship in-stock items within 5 days of receipt of your order. Alaska and Hawaii orders incur extra shipping charges.
Rush Orders - The recipient pays the actual shipping cost, plus the $6.95 handling fee. We ship in-stock items within 5 days of receipt of your order.
No Foreign Orders.
Important Note - Orders submitted with questions will not be processed until the order is reverified by email.
Have Questions? E-mail: omni@americaoutdoors.com