Shotgun Games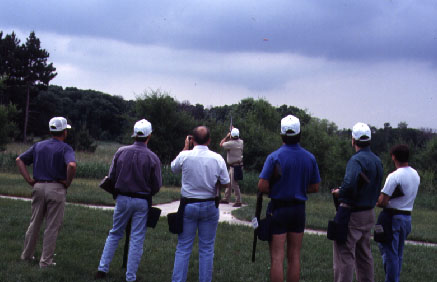 Each year thousands upon thousands of men, women and youngsters participate in a variety of shotgun shooting games on a local, regional and national level. Competitions are held across the country including divisions for men, women, youth and seniors. Clays shooting is one of America's most popular and fastest growing outdoor sports.
Trap
Governed by the Amateur Trapshooting Association (ATA). Standard clay targets are thrown as singles. The horizontal direction is random with a maximum angle of 22 degrees measured from a line from the trap to the middle station. The height at which the targets are thrown is constant. The distance is constant at 50 yards. A squad of five shooters shoot in rotation from five positions arrayed in an arc located 16 yards behind the trap house. Five targets are thrown at each station. A round is 25 targets, and only one shot is allowed at each target.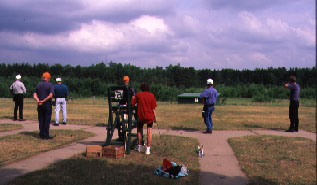 Handicap Trap. A variation of singles trap, except the shooter stands between 17-27 yards from the trap depending on their "handicap" yardage. The ATA reviews handicap scores and assigns each shooter a handicap distance.
Doubles Trap. Two targets are launched simultaneously from one machine, at fixed angles. Squads of five shooters rotate through the five positions on the 16 yard line. Shooting events consist of 25 or 50 pairs. Like 16 yard and handicap, scoring is one point per target hit.
Skeet
American Skeet. Governed by the National Skeet Shooting Association. A round of skeet consists of 25 targets in a fixed sequence of singles and simultaneous doubles from either a high house or a low house. Squads of five shooters take turns from eight shooting stations. Each squad member takes two singles and one double from stations 1, 2, 6 & 7. Two singles are taken from stations 3, 4, 5 & 8. The 25th target is taken after the first target is missed, or as a final target (low house #8) after 24 hits. Variations in the angles of the targets presented from the high and low house result as the shooter moves from station to station. Skeet offers events for small gauge shotguns: 20, 28, and .410.
Doubles Skeet. Shooters, in squads of five, start on station 1, shooting one pair of doubles each to station 7. Then they reverse, shooting one pair each from stations 7 through 1. On station 4, shooters must shoot the high house target first. On reverse (shooting 7 through 1) they must shoot the low house target first. In tournaments, the events are 50 or 100 targets.
International Skeet. An eight station format like American Skeet with faster targets thrown at 72 meters. The shooter is required to hold the butt of the gun at hip level until the target is seen, which may be delayed for up to 3.5 seconds after the "pull" request. Single and double target sequences are slightly different from American Skeet with a high single and one pair of doubles from Stations #1 & #2; high and low singles and one pair of doubles from Stations #3, #4 and #5 (on Station #4, the high bird must be attempted first in doubles); a single low and a double from Station #6; one pair of doubles from Station #7; a single high and a single low from Station #8. A round is 25 targets (no option shot). Like Olympic Trap, shot charge is restricted to 24 grams approx. 7/8 oz.), with any safe powder charge. For tournaments, all shells must be of the same type and load.
Sporting Clays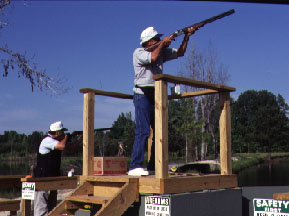 Regulated by the National Sporting Clays Association. Sporting Clays simulates, as far as possible, conditions and presentations normally found while hunting. A typical sporting course is laid out over varied terrain. Shooters travel along a course (often likened to golf), and shoot from stations along the way. Targets of different sizes are thrown at various angles, speeds, and distances from the various shooting stations. Six different types of targets are commonly used: standard, midi, mini, battue, rocket or rabbit. These may be singles, report pairs (the second target is sent when the first target is shot), following pairs (one behind the next) and true (simultaneous) pairs. A round consists of 50 or 100 targets. In regulation shooting, the target must be seen before the gun is mounted. Sporting clays is a great way for hunters to tune up for or improve their hunting success.
FITASC Sporting/International Sporting. Perhaps the most challenging form of sporting clays shooting, it is the French version of practice for field shooting. Unlike the free and easy format of English or American Sporting, FITASC Sporting is shot in squads of up to six. There is a fixed order of stands (parcours, in French) that are shot in strict rotation. A competition series normally consists of 200 targets shot over three days in eight rounds of 25. In each 25 shot round, shots are taken from at least three different stands. The shooter is required to hold the butt of the gun below armpit level until the target is seen. Great variety and lack of repetition is accomplished by using a number of traps. Single targets are first shot by the entire squad. After the entire squad has completed the singles, combinations of the singles are presented as doubles. All six common types of clays are used. Generally speaking, targets tend to be at longer ranges with the added challenge of a continual variation of speeds, angles, distances and target combinations.
This material adapted from Black's Wing & Clay. All rights reserved.