The Best White Bass Lakes in Texas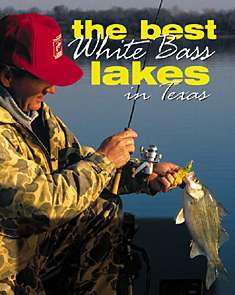 'Under-utilized' is used by biologists to describe the white bass fishery in Texas. However, the state's original striped predator fish is still full of spunk.

By Allen Tarvid
Half a dozen boats were drifting in a loose group as fishermen in them glassed the surrounding open water with binoculars. Suddenly one pointed and yelled,"There they are!"
Engines cranked and boats jumped on plane toward a moving circle of frothing water. Thirty yards upwind of the surfacing white bass, the boats chopped their engines. Trolling motors clunked into position before the boats settled in the water and whirred at top speed toward the leaping shad and thrashing whites. Lures arced through the air even before the boats were in casting range, in hopes of fooling stragglers at the edge of the school. As the casts reached the school, rods bent almost instantly.
This scene has been repeated for countless Texas fishermen, and it never fails to stir the blood. White bass have provided light-tackle thrills for accomplished anglers and first-time fishing excitement for all members of fishing families for as long as Texas reservoirs have existed. Other species are stealing most of the limelight these days, and marauding schools of whites are teaching shad to fly without many spectators.
There are more than 60 reservoirs with white bass size records published, and even more with populations of the feisty fish. Choosing the best one in your area can be tough. A Texas Fish & Game® canvassing of the state's district fisheries offices, however, uncovered the lakes currently offering the hottest white bass action.
The top white bass lake in the Texas Panhandle is Lake Meredith, just north of Amarillo. The Canadian River doesn't support a spring run, and summer is the best time to fish the lake. Meredith's water temperatures seldom climb above the mid 70s, so it doesn't suffer from hot-water summer doldrums.
Moving southeast to the Abilene area, Lake Sweetwater gets top honors with Lake Leon, near Eastland, a strong runner-up. Anglers introduced whites to Lake Leon, where the fish now approach 4 pounds. Lake Graham has good numbers of fish, and Lake Brownwood is also worth trying. Lakes Brownwood and Leon also offer spring run action.
Farther south, near San Angelo, Twin Buttes Reservoir is usually a hotspot. However, the water level has been dropped 20 feet for dam repairs that are expected to take a couple of years. Boats can still be launched at two ramps, but care must be taken while moving around the lake. The growing white bass population at O.H. Ivie Reservoir, east of San Angelo, makes it a better white bass fishing destination. It's a young lake, and records are continually being broken.
In Southwest Texas, Falcon Reservoir near Zapata is probably the best white bass lake. Water levels are down at this writing, and gill netting is in full swing on the Mexican side of the lake, but fishing can still be good. San Ygnacio, up the Rio Grande from Falcon, is a popular spot to launch and chase white bass.
In North Central Texas, Lake Weatherford is a standout. It's producing good numbers of fish, and in the most recent net surveys 96 percent of the fish were keeper-size or larger. Lake Bridgeport showed the second-highest number of white bass in the area; 75 percent of the fish netted there were legal size or larger. Ray Roberts, Lavon and Texoma also made good showings. Lake Texoma's white bass fishing is getting better every year, even with competition from its super striper population.
The Elm Fork of the Trinity River above Ray Roberts is a great place to try during the annual spring run. Anglers without boats can gain bank access to nearly all of the creeks above Ray Roberts at road crossings.
Lake Arrowhead near Wichita Falls is another North Texas lake with good numbers of healthy, fat fish, and whites over 3 pounds are not uncommon. The white bass populations in lakes tend to cycle up and down, but Arrowhead has remained high for about the last four years.
Moving slightly east, Lake Tawakoni near Greenville is a top lake. It doesn't host much of a spring run, but a lot of windy-point spawning occurs in the main lake. Much of the white bass population never seems to leave the lower end.
Cooper Lake, just north of Sulphur Springs, is probably second best in the area. Its population is still expanding, but good-sized, fat, healthy fish are showing up with greater regularity.
Pat Mayse Lake near Paris also has a good population, and has consistently produced good catches of whites.