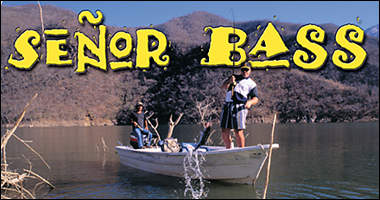 Mexico's Agua Milpa: Bassin 'til your arms hurt
By Chester Moore, Jr.
Page 2
That evening our guide, Philip, took us to a long point that extends from a rugged, rocky bank. He told us to fish with plastic worms, so we rigged up Carolina-style fitted with 1-1/2-ounce weights and 10-inch Riverside worms. We needed the heavy weight because the larger fish were concentrated down deep in 25 to 30 feet of water.
And were they ever concentrated. From 2 to 6 p.m. we caught fish one cast after the other. The weight took about 10 seconds to hit bottom, at which point a chunky bass would hit within seconds.
The fish were biting so aggressively that we started getting upset if we didn't catch a fish on a cast. There were no real whoppers, but enough in the 4- to 5-pound class to make fighting them a challenging chore in the deep, clear water.
We didn't keep count of how many we caught, but it was easy to figure out that it was an enormous catch. A conservative estimate is 150 fish in a mere four hours.
The next day I fished with Stanton again. I had opted not to fish that morning to work on some magazine assignments, so my final day of fishing would be an evening trip only.
Our guide, Ramone, took us to the same spot we'd started at the first day. It didn't take long to contact fish. Again, we worked parallel to the banks in 15 to 20 feet of water with Fat Free Shad crankbaits and caught good numbers of quality fish.
Just as we were confident we might score on a true lunker, the winds kicked up and made fishing tough. We had to move to more protected waters.
When Ramone pulled up to a small tree and began tying us off, I noticed we were on the same point where Davis and I had caught so many fish the day before. In fact, Davis was fishing a point about 1/2-mile across the lake, and from the words he shouted it was apparent he had plans to fish there himself.
Too bad. Stanton and I used the same Carolina rig setup with the 10-inch worms and began catching fish immediately. We started at about 3 p.m. and fished until just after 6 p.m., and we caught fish with virtually every cast.
As the sun disappeared behind the hills, Stanton said his goal for the day was to catch 141 fish, because no one would believe him if he caught 140. His original goal was 150, but the feisty nature of the fish kept him busy fighting them. He didn't manage, though, to reach his goal.
"I have to stop at 138," Stanton told me. "I literally can't catch any more. These fish have worn me out. This is 'fishing until your arm hurts' for real."
I never count fish, but would say I easily caught more than 50 bass that evening. And that was accomplished while shooting pictures for more than three hours.
We struck bass fishing gold every day of the trip to Agua Milpa, and forged memories that will last a lifetime.
After fishing at a lake where a total of six anglers at camp caught more than 1,000 fish in three days it might be easy to say "It doesn't get any better than this." The exciting thing about Lake Agua Milpa, though, is that it will get even better with time.
This lake has things going for it that other Mexican lakes don't. To start with, it is the first catch-and-release-only lake in the country.
And, it's the first below-the-border lake to limit commercial netting. The big Mexican lakes have commercial netting for a perch-like fish called tilapia, a practice that also takes a toll on bass numbers. Tilapia netting is only allowed for part of the year at Agua Milpa so, fewer bass get entangled in nets.
The tilapia themselves are a boon to this lake. There is a huge population of the fish here, and they are the chief forage species for its resident bass population. An added bonus of the tilapia is that they're extremely high in protein and as such can help boost bass growth rates. Many commercial fish farms have gone to using tilapia as food for bass.
A lack of fishing pressure is another plus for this lake. Agua Milpa is 71 miles long, and carries a variety of habitat ranging from shallow flats to deep holes that are more than 600 feet deep. And there's only one fishing camp on the lake, which is operated by Mexican bass fishing guru Bill Chappman, who was the first man to introduce Florida bass to Mexico. Five years ago, when the lake was impounded, he released 400,000 Florida bass fingerlings into its waters.
The current big-bass record for the lake is a 10-pounder caught early this year, but keep in mind the fish are only 5 years old. The top end fish should be at 9 or 10 pounds, and with a healthy population of 7- and 8-pound fish, the trophy potential of the lake is mind-boggling.
Agua Milpa is the new kid on the block of the Mexican bass lakes, but it's already tops for producing huge numbers of quality fish. And if current management practices stay in place it will grow up to be more like the neighborhood bully.
If you're going to pick a fight, you've found the place.
(Editor's Note: To book a trip to Lake Agua Milpa call 505-769-0220 or check out www.bassmex.com)